Uniwell SX6600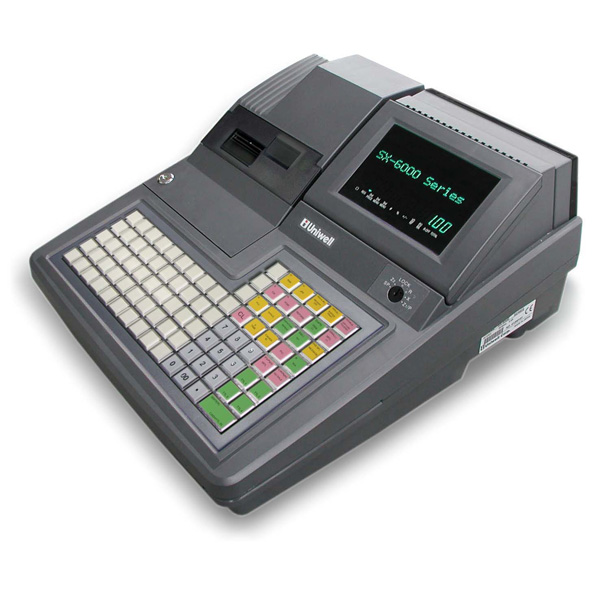 The SX6600 terminal is an entry level POS system designed for the hospitality, leisure and catering market. The flexibility of the system makes the SX6600 ideal for use in bars, restaurants, quick service, cafes and canteens.
The terminal features a high visibility two line operator display with adjustable viewing angle. A large 165 button membrane keyboard can cope with extensive menus.
Behind the scenes the precise needs of any operation for simpler stock control, tighter cash control, security and comprehensive management reporting are easily handled by the SX6600 facilities and options.
The SX6600 is capable of operating either stand-alone or part of a sophisticated network of terminals, the SX6600 offers users maximum system resilience and reliability.
Two additional models in the series provide a choice of printer options:
SX6700 incorporates a 2 station thermal printer (receipt and journal).
SX6750 incorporates an 80mm wide one station thermal printer.
Remarks of SX-6600-05
---
»
Scanning system with 18 digits random PLU codes
»
Standard 2,238 PLUs, Max. 61,693 PLUs
»
99 group-As with stock control
»
99 group-Bs and 10 main group-As
»
99 cashiers with its own full transaction memory
»
1,024 customer file
»
341 R. PLUs (Recyclable PLU)
»
Discount functions such as mix & match, multi- buy, etc
»
Age limitations
»
User friendly PLU programming
»
10 arrangement keys, 50 key steps each
»
Euro currency system
»
ESF memory, ESF buffer print function
»
2,048 amount tracks
»
25 media keys + 10 preset tender keys
»
Card functions
»
PC batch communications
»
Program loader module PLM 2000
»
Scale link
»
Inter Register Communications
• 32 ECRs
• PC communications with Tensai2000 via NA-720
• Flash reports and flash downloading
• 8 slip printers